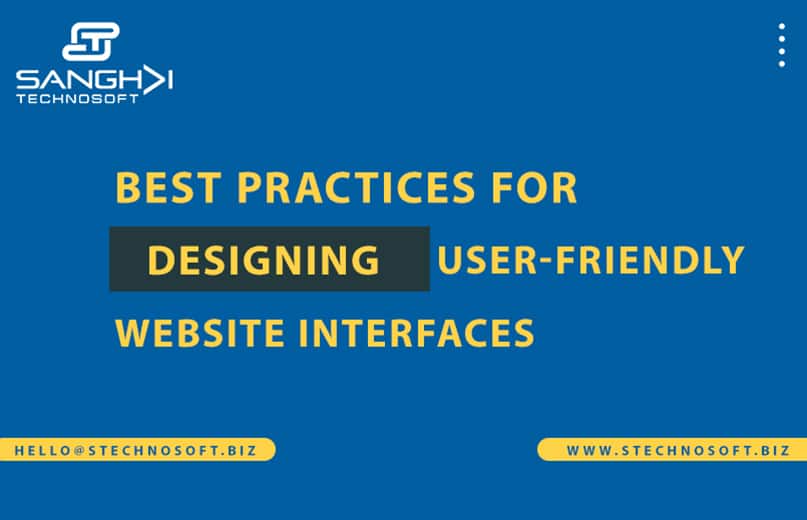 Best practices for designing user-friendly website interfaces
A website's ease of use is crucial to its success in the modern era of technology. Users today are spoiled for choice and will quickly move on from websites that are cumbersome to use in any way (for example, because they take too long to load). However, if the interface is well-designed, it can boost user engagement, boost conversion rates, and ultimately benefit the company's bottom line. Here, we'll look at some of the top methods for creating intuitive website interfaces.
Reduce Complicated Menus
Intuitive navigation is a crucial part of any user-friendly interface. All content should be easily navigable and accessible to users. This can be accomplished by reducing the complexity of your website's menu structure and organizing related content into distinct sections. Labels should be descriptive, not filled with industry jargon or other terms users may need help understanding.
Make Use of White Space
White space, also called negative space, refers to the unoccupied area of a design. It may seem like a waste of space, but white space is a useful design element that can boost readability and the user experience. Use white space to demarcate sections and ensure adequate separation of text and other elements to facilitate easy reading.
Ensure Mobile Responsiveness
A responsive layout is mandatory in today's mobile-centric society. Your website's mobile experience should be on par with a desktop computer's. Make sure your website looks great on all devices by paying attention to the details of how it is displayed on mobile and considering a mobile-first design strategy.
Use Consistent Design Elements
When designing user-friendly website interfaces, consistency is of the utmost importance. Visitors to your site will be much easier to navigate and understand your content if you use a consistent color scheme, font family, and button style throughout. Because of this, people will become more comfortable with and loyal to your brand.
Optimize Page Load Times
Users may become increasingly frustrated by long wait times for pages to load. Compressing images, using a content delivery network (CDN), and reducing the number of HTTP requests will all help your website load faster. A faster website is better for users and may even help the site rise in search engine rankings.
Incorporate Accessibility Features
A key component of user-friendly web design is making sites accessible to people with disabilities. You can make your website friendlier to people with disabilities by including accessibility features like alt text for images, video captions, and a logical arrangement of headings.
Constant maintenance and refinement are required when designing a user-friendly website interface. You can make a website that users will enjoy by streamlining the navigation, utilizing white space, guaranteeing mobile responsiveness, using consistent design elements, optimizing page load times, and including accessibility features. Remember that more traffic and higher conversion rates will benefit your business the more user-friendly your website is.
Sanghvi Technosoft is the best service provider for all your requirements if you're looking for a trustworthy associate to help you create a user-friendly website interface. If you want a website that looks great and offers a fantastic user experience, our team of skilled professionals can help. Get in touch with us today for more info on our offerings.