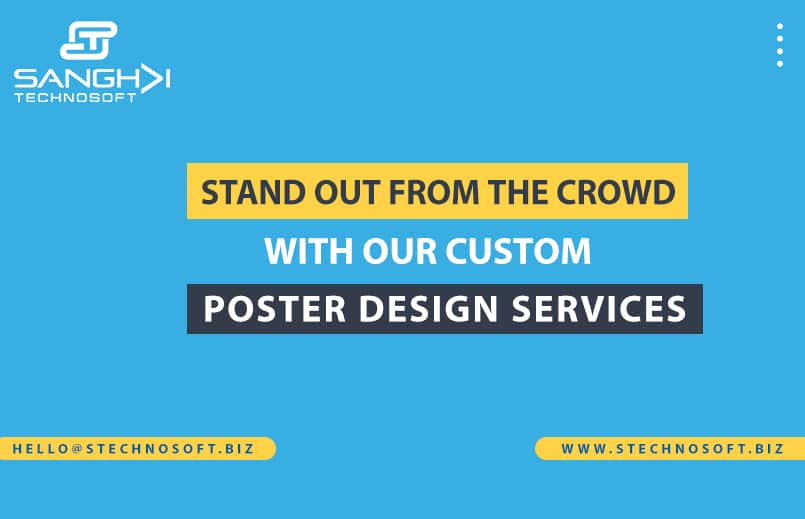 Stand Out from the Crowd with Our Custom Poster Design Services
The act of generating visual representations of information or ideas often presented in public locations, such as on walls or billboards, to promote events, products, or services is known as poster design. Poster design uses graphic design elements like text, images, and colour to create a visually appealing and effective message that grabs the target audience's attention.
A poster's objective is to deliver information simply and concisely while simultaneously eliciting an emotional response from the reader. Good poster design can aid in promoting events, products, or services by increasing exposure, recognition, and interaction with the intended audience.
Our professional and experienced designers at Sanghvi Technosoft are passionate about making fantastic posters and successfully expressing your message to your target audience. We believe that each poster should be one-of-a-kind, expressing the personality and branding of the person or company it represents. That is why we collaborate closely with our clients to understand their needs and preferences and are dedicated to exceeding their expectations.
We approach poster design collaboratively, collaborating with our customers to ensure that every design component, from the layout to the font to the images, is consistent with their aims and messaging. We recognize that each customer is unique, so we provide a variety of customization options to meet their demands and budget.
Our Poster Design service will help you develop a design that stands out from the crowd and effectively delivers your message, whether you need a poster for a corporate event, a concert, a product launch, or any other occasion. We are dedicated to providing high-quality designs that exceed our client's expectations, and we take pride in our ability to make their ideas and visions a reality.
Hence, if you need a professional and skilled Poster Design service to help you make a beautiful poster while effectively promoting your message or event, go no further than us. We are committed to creating designs that impact and assist our clients in reaching their objectives.