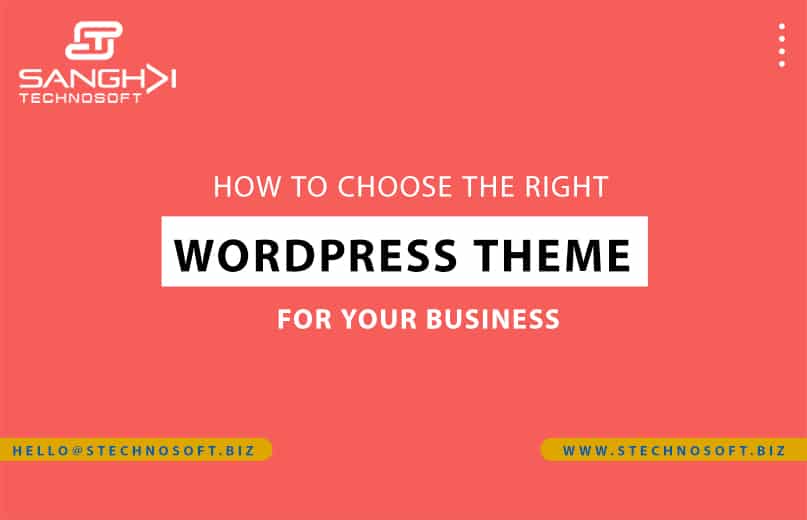 How to Choose the Right WordPress Theme for Your Business
Choosing the suitable WordPress theme is crucial when creating a website for your business. The theme you select can significantly impact your site's overall look and functionality and the user experience. Making a decision can be difficult with so many options available. That is why we have created this guide to assist you in selecting the best WordPress theme for your company.
First and foremost, you need to consider the purpose of your website. Are you a blogger, an eCommerce store, or a corporate website? Different themes cater to other industries, and you need to find a theme that suits your needs. For instance, if you run an eCommerce store, you need a theme optimized for online shopping.
Another crucial consideration is the visual appeal of the theme. Your website's design plays a vital role in attracting and retaining visitors. A visually appealing and well-structured theme can improve your website's user experience and increase engagement. Make sure the theme you choose is customizable so that you can tailor it to match your brand's look and feel.
Speed is another essential factor to keep in mind. A slow-loading website can hurt your business's online presence, and visitors are less likely to stick around if they have to wait too long for your site to load. Choose a lightweight theme optimized for fast loading speed to ensure a positive user experience.
You should also examine the theme's responsiveness. Because mobile devices make for a sizable amount of internet traffic, selecting a mobile-friendly theme is critical. A responsive theme adjusts to different screen sizes automatically, ensuring that your website appears nice on all devices.
Lastly, consider the support and updates that come with the theme. Choose a theme from a reputable provider that offers regular updates to ensure compatibility with the latest WordPress versions. Also, check for support options like documentation, tutorials, and customer service, in case you run into any issues while setting up or using the theme.
Finally, choosing the right WordPress theme for your business requires careful consideration of various factors. At Sanghvi Technosoft, we understand the importance of having a website that accurately represents your business's vision and goals. Our team of experts can help you select the perfect theme to match your needs and enhance your online presence. Contact us today to learn more.